We are Live!
Aproove has launched a fresh new website to better reflect our product positioning and product offerings! Click here to visit Aproove's new website!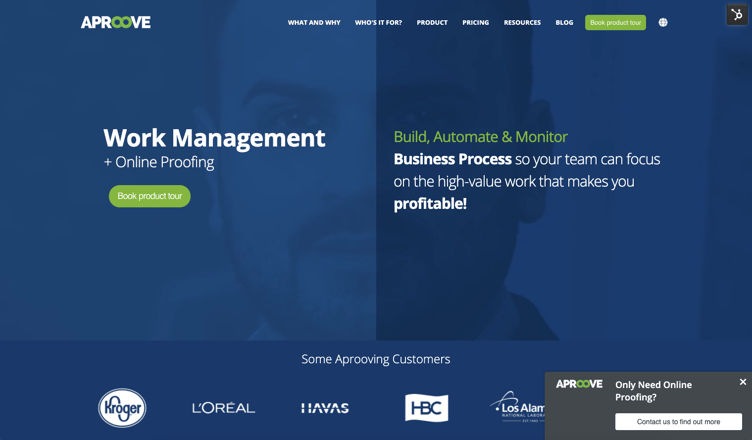 Aproove initially launched as a feature-rich, Enterprise-class, Online Proofing tool designed explicitly for Marketing teams, Brands, and Enterprise companies.
As we continued to work on large projects, the application became more feature-rich, and it was clear that Aproove was doing much more than just Online Proofing. We had evolved into a "Work Management" platform.
Aproove WM is highly configurable, allowing it to meet exact business requirements. This unique ability means Aproove WM gets used in a wide range of industries, many of whom have hundreds and even thousands of users. Our customers include; Insurance companies, Banks, Laboratories, Service providers, Marketing Teams, Brands, and Agencies.
Unrivaled security, SAML 2.0 SSO, and flexible/scalable deployment options make Aproove WM a refreshing and unique choice for many industries searching for a centralized Work Management tool.
Aproove Work Management is for our traditional Enterprise and SME businesses that require highly configurable Work Management, Workflow Automation, with incorporated Online Proofing Tool.
However, Aproove also understands that some companies want pure Online Proofing without the need of work and task management (maybe you have something in place already, or this is overkill for your requirements). For those customers, we will be making some exciting announcements in the coming weeks.
Existing customers who are on our Aproove ONE or Aproove Enterprise platform will see some subtle product name changes as we transition over to Aproove Work Management. You will also see some significant product enhancements giving your even more reason to continue your journey with Aproove!

If you have any questions or feedback on our new website, we would love to hear from you. Please feel free to contact us a cst@aproove.com